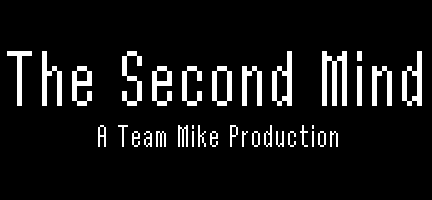 The Second Mind Demo
A downloadable game for Windows, macOS, and Linux
The Second Mind is a typical RPG, except the main conflict is between the character and the game itself. The main character is an AI, and he doesn't understand when an outside force (the player) starts controlling him. Wanting to discover the cause of this, the character is led on a journey up the mountain near his hometown. Follow the attention-hoarding Narrator's guidance as you defeat monsters, level up, interact with NPCs, and solve puzzles. But be alert, because the character learns from your actions, and he'll have to do these things on his own as well. The desires of the player, the character, and the Narrator all clash throughout the story.
Stay tuned for more updates as the story unfolds. There are definitely things I would like to add or improve on, as I plan to keep working on this game. It's been only four months so far.
Follow me on Twitter (@Team__Mike) and if you have any questions/feedback, email teammikeproductions@gmail.com.
DISCLAIMER - Optimal resolution is 480x360 and larger, and Unity's resolution options below that are not recommended.
Check out the Trailer:
Download